Outreach Service has a long, rich history at the Dayton Metro Library. In 1923, Electra C. Doren started one of the first book wagon services in the nation, delivering books to factory workers at lunchtime, and residents in outlying communities. Today, DML's Outreach Services include the Kids' Bookmobile, Home Library Services, and Lobby Stop Service. Whether it's a Bookmobile stop at a daycare center, delivery to someone who cannot leave home, or participating in a community event, Outreach Services expands the reach and impact of the Dayton Metro Library.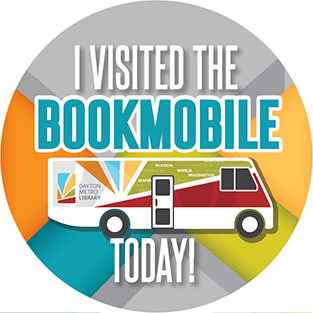 Dayton Metro Library is an active member of the community, participating in parades, festivals, and other events. While DML would like to support all community events, it is not physically or financially possible, and participation must be carefully considered. If you would like to request DML staff or vehicle participation in a community event, please contact Outreach Services by calling 937.496.8956.
Branch Manager, Camee Hart
Camee Hart is Outreach Services Manager. She began her career at the Piqua Public Library in 2008, and joined the DML team in 2013. She earned her Master of Library and Information Science degree in 2015, and has worked at the Trotwood, Northwest, Madden Hills, and Westwood Branches before becoming the Outreach Services Manager in 2020.
Staff Highlight
Christian Brewington is the Children Services Librarian. He carefully crafts each Bookmobile program to be both fun and educational, teaching children early literacy skills and modelling behaviors that promote reading readiness.
Outreach staff members are dedicated to providing the materials and services our patrons need, enhancing DML's presence in the community, and offering computer and technology assistance to keep people connected to friends, family, information and resources.
The Kids' Bookmobile visits preschools and daycares, providing storytimes and opportunities for young readers to select and borrow books they can keep until the Bookmobile returns. Teachers can request special collections of books to complement any subjects they might be covering in their classroom.
To request a Bookmobile visit for your preschool or daycare center, call Outreach Services at 937.496.8956.
Local Early Literacy Community Partners:
Sometimes you don't know what you want until you see it! Lobby Stop Service sets up a temporary browsing library in the lobby, cafeteria or common area of older adult living communities. Residents can make selections, check out items and return them at the next visit. The materials we offer include: large and regular-print books, DVDs, music CDs and books on CD.
Senior community administrators should call Outreach Services at 937.496.8956 to request the Lobby Stop Library.
Home Library Services serves adults who have difficulty leaving home due to physical or psychological reasons. Whether the need is short-term or indefinite, we'll deliver books, movies and music directly to you, free of charge. Call us to schedule Home Library Services for yourself or a family member.
Local Groups Supporting Older Adults
New Americans Services
One of the missions of DML Outreach Services is to help new Americans and non-native English speakers access resources and feel welcome in our community. Staff members network with community organizations such as Latino Connection and Welcome Dayton to determine effective ways to serve new Americans. The Main Library features an extensive New Americans area on the second floor, where patrons will find books, movies and music in multiple languages, citizenship information, and more. Volunteer-led Talk Tables take place at several Branch Libraries for anyone who wants to practice their English language conversation skills. If you have questions about Library services for New Americans, or suggestions for new programs, please call 937.496.8956.
Resources for New Americans
Library Card Applications